Master class - 3 to 5 days workshop 
Our 3 to 5 days Master classes are for Hotel Professionals, Pastry Shop owners, Pastry Instructors and Pastry enthusiasts. It will be a combination of Hands-on and demonstration. The participants will have an opportunity to create recipe under the supervision of the experts. The Master chefs will share the tricks of the trade, valuable tips, new technology and concepts that will allow them to expand their knowledge and skills.
Our Master class are taught by distinguished visiting chefs from around the world including prominent international reputations like Jean Francois Arnaud M.O.F, Frédéric Hawecker M.O.F, Angelo Musa M.O.F, Sébastien Chevallier M.O.F, Arnaud Larher M.O.F, Stéphane Tréand M.O.F, Johan Martin, Christophe Morel and many others.
Terms and Conditions
Yearly calendar promoted.




Packages are first come first serve basis.




Fees paid are non-refundable.



Benefit of the program
MOFs, World Pastry Champion, Master chefs supervision




Max. 14 students.




Hands - on program.




Choice from 12 different classes a year.



Ming Ai Loi
World Pastry Champion 2019
You will be learning the following techniques in this workshop:
Tempering of Chocolates

Robot coupe chocolate

Making moulds by cardboard

Chocolate figurines

Chocolate flowers

Tempering of Cocoa Butter

Coloured Cocoa butter Air brush spray

Polishing techniques & waxing effect
Loi Ming Ai is working as Executive Pastry Chef in Academy. He is World Pastry Champion 2019 and worked in Beijing for a fine dining restaurant as Pastry Chef. He is a trained Sugar and Chocolate artist chefs who conduct classes for full time and part-time pastry classes in Malaysia, India and Philippines.
Wei Loon Tan
(World Pastry Champion 2019)
He will be conducting this 4 days workshop where he will work on 12 - 14 tried and tested recipes. This will also include his award winning chocolate cake in World Pastry Cup 2019, Lyon France. Please note that class maybe delayed a bit in the evening based on the speed of the participating chefs.
Chef Tan Wei Loon is World Pastry Champion 2019 (Coupe du Monde de la Patisserie) Asian Pastry Champion 2018 and 2014, undisputedly one of the Best Pastry Chefs in Asia. He is APCA Malaysia Director of Pastry Studies. He has represented the Malaysian National Team in many International Pastry competitions. His special skills are Modern French Pastry, Sugar Art, Airbrush Techniques, Chocolate Displays and Chocolate and Praline making. He competed for Coupe Du Monde 2015 Sirha and ranked 4th in the World. He is the Coach of Malaysian National Team competing in World Pastry Cup 2017 Lyon. Chef Tan travels all over the world conducting workshops for Pastry schools and Pastry Professionals.
Angelo Van Toorn
Chief Baker
You will be learning the following techniques in this workshop:
Creating and maintaining a sourdough culture

Different type of Levain

Formulating and customising dough recipe as per the desired result and texture

Using sourdoughs without commercial yeast

Laminated doughs danish, croissant, brioche fuillete

Specialty enriched breads panettone, pandoro and stollen

Theory of fermentation

Creating good crumb structure in breads

Laminated doughs danish, croissant, brioche fuillete

European breads ex baguettes, whole grain sourdoughs, Ryes

Asian style breads melon pan, polo bun, asian style european bread

Competition style boutique Viennoiserie

How to mix dough by hand

And how to apply techniques and methods in real bakery productions to maintain consistant results
Chef Angelo Van Toorn graduated from Johnson and Wales University where he obtained degrees in both Culinary Arts and Baking and Pastry Arts. He continued on to work for Michelin Star Chef Michael Mina for several years. After leaving the Mina Group, he began working for The Four Seasons Hotels and Resorts travelling across the states to improve and establish baking programs in several Four Seasons Hotel including Miami, Palm Beach, Chicago, Vail and Denver Colorado. He joined the Academy of Pastry Arts Malaysia in January 2015. He currently is a certified Baker by the Retail Bakers Association of America as well as a Long Term Member of the Bread Bakers Guild of America.
Jean Francois-Arnaud
MOF Patissier
Jean Francois Arnaud is an International consultant in Pastry & Bakery since 2006. He is based in Malaysia from where he travels all over Asia and Middle East to conduct training and workshops for professional pastry chefs. He is MOF 2000 which mean the best Craftsman of France. He has been associated with best Pastry chefs and publications of the world like Thuries Gastronomie Magazine for whom he created monthly recipes for 10 years, Bakery & Pastry Magazines Asia & North America.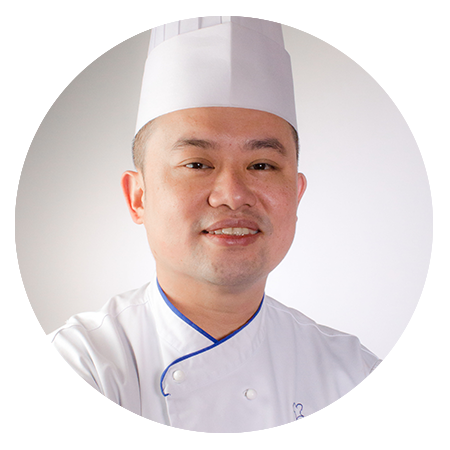 Lim Chin Kheng
Executive Pastry Chef
You will be learning the following techniques in this workshop:
How to make Castella Cakes

Calculations for specific gravity (SG) for sponge

How to bake and making the perfect sponge cakes and Japanese roll cakes and choux sponge

The knowledge Japanese ingredients pairing

Demi-secs products like travel cakes, matcha macaron, hojitcha cakes, matcha Dacquoise

Japanese Cheese cake

Explaination of type of Japanese French pastries and culture

How to cook Azuki filing , Yuzu cream , black sesame cream , matcha cream and miso caramel filling

The concept of Japanese French pastries decoration and colours

How to make classic fluffy Japanese cream puff

Explanation of Japanese flour and Japanese sugar
Chef Lim Chin Kheng started at the Academy of Pastry Arts Malaysia in 2014. He is very dedicated to Pastries and has a strong working experience in One World Hotel, The Saujana Resorts and Hotel and also Melia Hotel Kuala Lumpur. He represented Malaysia during Asian Pastry Cup 2016 and received 2nd Position. He conducts full time workshops and Intensive class for students in Malaysia and Philippines.He represented Malaysia in World Pastry Cup 2017 in France, January 2017. Chef Lim specialise in French Pastries, Wedding Cakes, Travel Cakes, Plated Desserts and Chocolates.